Holistic Healing with Aromatherapy: Foundations and Theory
Online Aromatherapy Classes and Level I Aromatherapy Certification
 Live Online Webinars in Real Time in United States and Canada
  with Christina Wilke-Burbach PhD, RMT, CA
Next series TBA
Dr. Christina offers one live online aromatherapy level 1 series a year. Next series will tentatively start in late 2017
Independent-study online classes are also available year round!! Please visit the Online Classes with Dr. Christina page for more information.
Live class sizes are small and personal! Register early to guarantee your spot! Registration info at bottom of page.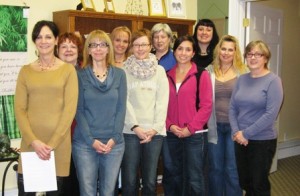 About the Series: Heal yourself and others! Aromatherapy and essential oils are very powerful tools in natural health and healing. Take a whole-body approach and learn how to personally and professionally use aromatherapy for holistic health and mental, emotional, physical, spiritual, energetic, and metaphysical well-being. Aromatherapy blends well with massage, bodywork, energy work, acupuncture, yoga, healing, counseling, nursing, Western Health care, meditation, TCM, Ayurveda, and naturopathy.
This comprehensive 110 hour Level I aromatherapy certification series was created by Holistic Healing Facilitator, Certified Aromatherapist, and National Association for Holistic Aromatherapy (NAHA) member Dr. Christina Wilke-Burbach PhD, RMT, CA.  Dr. Christina has training in both "French" aromatherapy and "British" aromatherapy and teaches true Holistic aromatherapy…. safely and ethically using oils via inhalation, topically, and internally when appropriate. Level I provides the foundation and theory behind 'Holistic Healing with Aromatherapy.' A 300 hour 'Holistic Healing with Aromatherapy' Level II Certification is available after completion of Level I. Level II is unlike any other one out there as it combines clinical, medical, folk, metaphysical, and intuitive aromatherapy with holistic healing concepts. Throughout the Level II series, you will learn over 40 aromatherapy and holistic techniques to bring balance to the mind, body, spirit, and energy system. Students also learn an Aroma Reading intuitive aromatherapy Technique developed by Christina. You may take the whole series without pursuing certification! You may also just take the Aroma 101 class as comprehensive intro to aromatherapy. This series commits to the highest level of safety and ethics.
Certificate: Students who attend modules Aroma 101-106 and complete required homework are eligible for a 110 hour Level I certificate of completion.
Educational Prerequisite: None. This is an entry-level series. This Aromatherapy Certification Program is designed to prepare students to become highly qualified professionals in the therapeutic and holistic uses of essential oils. Christina is an advocate of Integrative Medicine and strongly encourages medical and healthcare professionals to consider taking these classes. Level 1 Certification is required to take Level II classes.
Timeframe: Timeframe is flexible, but it is suggested that students try to complete the coursework for level 1 within 9 months. Makeup classes are available if a student needs to miss due to health or an emergency. Otherwise, students are expected to attend every live class.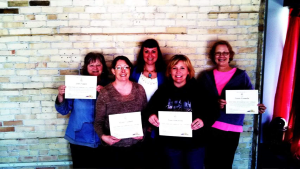 Please note: These are brand neutral classes. Dr. Christina does not advocate for any certain brand of essential oils nor does she sell any certain brand; she purchases oils from many different companies and currently has oils from over 12 different companies.  There are a lot of really great companies out there. In professional aromatherapy, the focus should be on safely and effectively using the oils, not on fighting over what company is the best. In Aroma 101, she will introduce you to over 30 essential oil companies. She encourages the student to find the company or companies that best align with their philosophies. Aroma 102 introduces students to ways to make their own essential oils and infused oils.
Supplies: Each module includes an 8 hour live class, a comprehensive workbook, and written materials. Essential oils are not included in the classes. Students are responsible for purchasing their own oils and carrier oils along the way. Some great oils to start out with include lavender, chamomile, tea tree, peppermint, eucalyptus, lemon, and bergamot. Some great carrier oils include jojoba, grapeseed, sesame, almond, and coconut oil. Students are expected to slowly build up their essential oils collection as they progress in classes. Many students have a good idea of what oils they would like to start purchasing after attending Aroma 101 and Aroma 102. There is a required book for the series that students are required to purchase before Aroma 102:  Essential Oil Safety: A Guide For Health Care Professionals, 2nd Edition By Robert Tisserand and Rodney Young. There is also a Suggested book: The Complete Guide to Aromatherapy, 2nd edition by Salvatore Battaglia.
How are these classes different than other aromatherapy class and certifications? Class sizes are small with lots of personal attention! Dr. Christina is a leading aromatherapy instructor in the Midwest with over 18 years of experience. Christina is a Holistic Healing Facilitator, Certified Aromatherapist, Herbalist, Reiki Master Teacher and one of only a handful of people teaching aromatherapy classes/certifications in the USA with a doctoral degree. She is a published author and researcher in the field of Complementary and Alternative Medicine. She is a Professional member of the National Association for Holistic Aromatherapy (NAHA).  Christina has hundreds of hours of training in both "French" aromatherapy and "British" aromatherapy and teaches safely and ethically using oils via inhalation, topically, and internally when appropriate. Christina is frequently interviewed by magazines and radio shows about aromatherapy (see the Media page on this website to view some interviews). She teaches one of the only "true" holistic aromatherapy programs that focuses on emotional, mental, physical, spiritual, energetic, metaphysical, and intuitive aromatherapy. She combines clinical and intuitive aromatherapy for true Holistic Aromatherapy. She developed an intuitive form of aromatherapy, Aroma Readings, and teaches this the level II series. Students in her level II series will learn over 40 aromatherapy techniques. Christina also focuses on heart centered business practices and social change. Here is her full bio: https://mindsoulandself.com/about-dr-christina-wilke-burbach/
Online class format: Each live class is 8 hours long and is split into 2 parts. Part one will be held on a Monday evening and part 2 will be held on the Wednesday evening of the same week. You must pay for each class in full at least 48 hours in advance. To hold your space in the classroom until you are able to pay in full, a $25 non-refundable deposit is required. In a live online classroom, you will be able to see, hear, and interact with Christina and other students in the class. Space is limited, so it is highly recommended that you reserve your space as soon as possible. Classes are held in a live classroom via the web conferencing and online meeting platform GoToMeeting. Christina is the hostess and will invite and give access to registered students. A detailed workbook for each class and additional materials are emailed to students. Please visit the online webinars page for more info about our live online classes. Our time zone is Central Time and we are located in Wisconsin, United States of America.
Tuition: Each module (101, 102, 103, 104, 105, 106) is $175. You can either pay as you go or pay for the whole series in advance for a 15% discount. A $25 deposit is required to hold your space in the 101 class with remaining balance 48 hours before class. You may register at the bottom of this page.
Level 1: Foundations and Theory of Aromatherapy
110 hours. Modules Aroma 101-106
Module 1: Aroma 101-Healing with Aromatherapy/Intro to Aromatherapy
Essential oils are nature's holistic medicine and a form of Complementary and Alternative Medicine (CAM). Learn about the categories of CAM, what aromatherapy is, its history and modern development, how oils are produced, properties of the oils, carrier oils, how to blend and safely use oils, techniques, and lots of recipes. We will learn about reputable companies, endangered oils, and discuss using aromatherapy for self-care and how to begin to integrate into your lifestyle and careers. We devote time to learning Animal Aromatherapy. This class is for anyone and everyone! This is the prerequisite class for all other classes in the 'Holistic Healing with Aromatherapy' certification series. Take "Healing with Aromatherapy" alone, or delve deeper into aromatherapy with the whole series. Module includes the 8 hour live class taught by Dr. Christina, a detailed manual, and additional written materials and exercises. Tuition: $175.  Registration info at bottom of this page. 
Module 2: Aroma 102-Essential Oil Profiles
This class offers students an opportunity to delve deeper into aromatherapy. We will profile 40 essential oils in detail, including holistic uses, cultivation, production, botany, and taxonomy. We will also cover essential oil testing, GCMS, and quality of oils. Instructor will also demonstrate how to produce your own essential oils and infused oils.  Module includes the 8 hour live class taught by Dr. Christina, a detailed manual, and additional written materials and exercises. Tuition: $175. Pre-requisite: Aroma 101. Required book: Essential Oil Safety: A Guide For Health Care Professionals, 2nd Edition By Robert Tisserand and Rodney Young. Suggested book: The Complete Guide to Aromatherapy by Salvatore Battaglia.
Module 3: Aroma 103-Essential Oil Biochemistry
Class covers the science behind how aromatherapy works! Learn about the psychopharmaceutical and pharmaceutical action of essential oils and how they affect brain and body chemistry. Class covers how oils work, chemistry, psychopharmacology, pharmacology, properties of essential oil chemical constituents, the mode of action, and rates of absorption of essential oils. We also cover essential oil therapy contraindications and interactions. Module includes the 8 hour live class taught by Dr. Christina, a detailed manual, and additional written materials and exercises. Tuition: $175. Pre-requisite: Aroma 101 and 102. Required book: Essential Oil Safety: A Guide For Health Care Professionals, 2nd Edition By Robert Tisserand and Rodney Young. Suggested book: The Complete Guide to Aromatherapy by Salvatore Battaglia.
Module 4: Aroma 104-Essential Oil Anatomy and Physiology
We will cover anatomy and physiology as it pertains to essential oil therapy and application. Systems covered include limbic, olfactory, lymphatic, immune, skin, respiratory, integumentary, reproductive, circulatory, nervous, endocrine, urinary, musculoskeletal, and digestive. We will also cover dis-ease and ailments of these systems as well as the best oils and techniques for each system. Module includes the 8 hour live class taught by Dr. Christina, a detailed manual, and additional written materials and exercises. Tuition: $175. Pre-requisite: Aroma 101, 102, and 103. Nursing students and massage students with previous anatomy and physiology must still take this class as it cover this info as it pertains to essential oils. Required book: Essential Oil Safety: A Guide For Health Care Professionals, 2nd Edition By Robert Tisserand and Rodney Young. Suggested book: The Complete Guide to Aromatherapy by Salvatore Battaglia.
Module 5: Aroma 105-The Art of Blending
Further explore the art and craft of blending essential oils and designing synergies! Enhance your ability to create effective, balanced, holistic, dynamic, and pleasant smelling therapeutic blends! In the best aromatherapy blends it is hard to pick out the individual oils as they merge together so well.  This class will explore 5+ blending theories in detail and each student will create a therapeutic/clinical blend using each theory. We will focus on creating blends for sleep, stress, mood, pain, chronic health conditions, and unique client situations. We will work on 'listening' through our noses to discern fragrance characteristics and principle aromatic qualities. This is also an opportunity for students to present client cases for assistance with designing effective aromatherapy and natural health treatment plans.  Students will also be introduced to perfumery and cologne basics and the fragrance wheel and will have an opportunity to practice creating a natural perfume. Module includes the 8 hour live class taught by Dr. Christina, a detailed manual, and additional written materials and exercises. Tuition: $175. Pre-requisite: Aroma 101.
Module 6: Aroma 106-The Art of Business
This class will focus on developing a holistic business, with an emphasis on aromatherapy.  This class will provide a strong business foundation for level 1 aromatherapists.  In this professional development class, students are introduced to Holism, the Holistic Paradigm and The New Wellness Wheel created by Dr. Christina. We will also cover how to do a clinical aromatherapy session, client assessment techniques including tongue diagnosis and pulse diagnosis.  We will discuss the referral process and working as a healthcare team with other professionals. Christina will mentor you on developing your client consultation and recommendation skills and will introduce you to Positive Psychology Techniques, The Stages of Change, and Motivational Interviewing Strategies. We will cover creating intake and informed consent forms, developing products and labeling, sales tax, and basic marketing skills. We will cover the Code of Ethics from NAHA and AIA. We will also discuss evidenced based aromatherapy, research, how to read and evaluate research, and where to locate credible resources. Module includes the 8 hour live class taught by Dr. Christina, a detailed manual, and additional written materials and exercises. Tuition: $175.
Level I 110 hour certificate available after Aroma 101-106:
48 hours of live class with Dr. Christina (Aroma 101-106)

4 hours of essential oil profiles (homework for Module 102)

10 hours of essential oil chemistry education (homework for Module 103)

20 hours of Anatomy and Physiology Review (Part of Module 104)

18 hours of homework and reading for Modules 101-104

5 hands on case studies (10 hours)

Final Exam (Please note there is a $50 correction fee for the exam and case studies)
Registration Info: Contact Dr. Christina with questions at mindsoulandself@yahoo.com or 608.393.7353. To register, please make a payment below using the Paypal cart. You can either pay the $25 non-refundable deposit (with remaining balance due 48 hours before class) or pay in full. You may also pay in full for the whole series for a 15% discount (save $150!!). Dr. Christina will then confirm your registration via email within 72 hours after payment is received. A lot of preparation goes into class. If the minimum amount of 6 students to hold class is not met, class may be cancelled or rescheduled, so please register early to guarantee class is held. Please note that the correction fee for the exam and case studies is $50 and is due when you are completed with all homework and ready for certification. This will be discussed in the classes.
Testimonials:
I took Christina's Professional Aromatherapy Certification course and it was so much more than I had anticipated. I loved how truly holistic her course is as we went into the clinical, emotional, metaphysical, and mental uses of essential oils. I went into the course thinking I was going to learn the basics on essential oils but I came out with having learned how to be a well rounded holistic professional. Christina, having a Phd is Health Psychology, was able to give us a viewpoint on the many uses of aromatherapy in a way many people could not have. On top of that, she has been expanding her practice for many years. I felt very lucky to have such an educated teacher passing along her knowledge to me. She is very dedicated to educating and molding confident and safe practicing professionals. In addition, we learned emotional and spiritual techniques that turned out to be so useful in my practice. Mind. Soul. Self. allowed my healing practice to be what I have always wanted it to be….TRUE Holistic wellness. I highly recommend this course to anyone willing to open their minds and break old thought patterns. Once I did, I was able to gain the tools I needed to be a confident wellness practitioner. -Steph, Madison, WI
Prior to level 1 certification I was using essential oils for over 2 years, like a large majority of users I figured I knew the all about the world of essential oils. However I was wrong! This course taught me so much more than EO's it introduced me to the world of botanical healing. In this series she teaches the safest and most effective ways to use aromatherapy to help not only the body but the mind and spirit as well. It also taught me how precious essential oils are and how important it is to respect them and use them responsibly. This course will show you a whole new way of thinking about health care for you and your family. Anyone who loves essential oils or has been curious about aromatherapy should definitely take this course. What I love most is not only has this course left me with a solid foundation in holistic aromatherapy but it also gives me a very valuable resource. Dr Christina is in my opinion one of the most valuable resources the aromatherapy industry has. Her teaching style is causal but very informative she is very easy to talk to and is there for me when advice is needed. If for some reason she doesn't have the answer she will provide you with the proper resources to find the answer which I have found to be a rare trait these days. I am proud to say I have studied under and know her. Thank you Dr Christina for all of your hardwork and dedication in prepare this course please never stop doing what you do! -Drew Moss, Main Street Massage, Sioux City South Dakota
I began taking aromatherapy classes with Christina because I have always been interested in essential oils. I am a registered yoga teacher and have attended a few yoga classes where the instructor used oils during Savasana or diffused them in the room during class. I thought it would be fun to learn more about essential oils, so that I could use them in my classes. After the first aromatherapy class, taught by Dr. Christina Wilke-Burbach, I was hooked! I found all of the information and hands(nose)–on learning useful and profound. As the classes progressed, I began teaching a yoga class using essential oils that I blended. The response from my students was positive and they started to ask me if I sold my blends. This sparked the idea to create my own business and now, I create different essential oil blends and self-care products. I also offer aromatherapy consultations for those that are looking for an intuitive and personal approach to creating therapeutic essential oil blends. I am very thankful to Christina! Holistic Aromatherapy classes have opened doors for me both personally and professionally!
~ Namaste ~ Melissa D. Registered Yoga Instructor Oconomowoc, WI
Participating in the series " Holistic Healing with Aromatherapy" was a very meaningful experience for me as an individual, and as someone who is always seeking to learn and grow as an energy practitioner. Taking this series has enhanced my life in more ways than I thought possible. Healing myself and helping others to heal themselves through essential oils was just part of it. The use of essential oils has enhanced intuitive abilities within me, opened my heart to become more compassionate, and brought forth a deeper appreciation of Gods beautiful creation- nature, and all it has to offer us. I will never look at plants, trees, flowers and grasses the same way again! Christina passes on her love of working with the essential oils to her students, making every class interesting, fun and uplifting. She is a wealth of knowledge and it is apparent to all who study with her, that she truly enjoys imparting her wisdom and watching her students evolve and grow. ~Moira D. L.P.N. Reiki practitioner, Holistic Aromatherapist. Milwaukee, WI
Having taken several short, as well as weekend-long, classes with Christina, her freshness of information and approach to connecting with students and teaching continues to amaze and inspire me! a whole new world has been opened to me through essential oils…i cannot thank you enough…I can't wait till we meet again 🙂 ~Cindy M. Reiki Practitioner and Healing Touch Practitioner Rochester, MN
Christina Wilke-Burbach is a fabulously gifted teacher! Her aromatherapy class was informative and fun! A great learning experience! I highly recommend this class to anyone who is interested in learning the health benefits of aromatherapy! I took away experience that will last me a lifetime!~ Connie T. CNA, RMT, Juneau, WI
I highly recommend the Aromatherapy Certification to anyone who is searching for a small class size, personal attention, lots of resources, learning opportunities in and out of the classroom, a comprehensive course curriculum, and having a very knowledgeable instructor who is dedicated to making sure you have fun and succeed. I always anticipated each class; I loved the thought-provoking class discussions, class activities, and of course learning about the healing properties of essential oils! Aromatherapy is without a doubt a staple in my business and personal life. Thank you Christina! ~Robyn P. LMT, Milwaukee, WI.
Thank you Mary Laven, for bringing Christina Wilke-Burbach, PhD, to Rochester, MN! Having the classes at your Wind Over Fire Healing Arts Center was a delight! Because these classes delve into so much information about Essential Oils, I am now better able to discern which products truly affect me physically and why—ultimately I can avoid contact with them. Experiencing and using Essential Oils is a process of looking forward, learning more, and then being able to incorporate the oils into my own Integrated Health Practices. ~Norrie L. MacIlraith, RN, BSN, MS, CNS, TH, HTP. Rochester, MN
Anyone interested in learning how to use essential oils safely and responsibly should seriously consider learning from Christina Wilke-Burbach. I was impressed with her expertise and practical approach to using essential oils. She presents the material in a professional yet informal way that allows everyone to share, ask questions and receive hands on experience. I know there are many books and materials available for those who want to know more about using oils, however, for those who want to use essential oils on themselves, friends, or family or to incorporate the use of aroma therapy with other alternative modalities, I highly recommend you take Christina's classes. Not only will you feel more comfortable blending and using essential oils, but you will come away from the classes realizing just how much more there is to learn. I found myself anxious to learn more from Christina. She has a wonderful sense of humor and makes learning fun. I admire her enthusiasm and appreciate the great amount of time and research she put into the written materials, including valuable and reliable resources for further reading and references. The Level I classes were quite an eye opener for me and I am extremely honored to have had the opportunity to learn from Christina. She is an exceptional woman who whollistically lives and breathes what she teaches. ~Pamela B. Reiki Master Teacher, Iowa
"Explore the ancient mystical glimmering of nature and science. Healing with Essential Oils is a great resource of a world forgotten. But our spirit has not, thus enters educator and Light worker, Dr. Christina Wilke-Burbach, who is a scholar, teacher and a practioner of clinical and intuitive Aromatherapy, has created a thoughtful and honest course(s) for the sole purpose of changing lifestyles, beliefs and old habits into methods of facilitated healing. My discovery of holistic healing has begun with the art and science of caring for the whole person – body, mind and spirit, through Aromatherapy certification 101-104. Western medicine is embracing this value of Palliative Care, that is respecting the physical, emotional and spiritual needs of the patient. These medicines of the earth are not only for the medical community, but are a timeless apothecary for our families and community. Christina is professional in every aspect of instruction. Her heart and motivation to build a better tomorrow is with warm roots and refreshing energy. Thank you Christina for passing on the sciences of Herbology and Aromatherapy. ~Laura M Hartert, Mayo Hospital, Rochester, MN
Regarding Level 1 and Level 2 Aromatherapy with Christina Wilke-Burbach, Ph.D.… After taking both of the Healing with Aromatherapy Intensives Levels 1 and 2, I am impressed with the depth of knowledge that Christina has regarding these magnificent gifts of nature known as essential oils. It is unfortunate that they are not better understood for their medicinal properties, and are confused with perfumery and scented candles. The oils are the essential life-force of each of the plants and as such, have the medicinal properties of each plant. It is beyond aromatherapy into botanical therapy! These classes are not just about dispensing oils to work on something symptomatic in an individual's body, but learning about the organic chemistry or the chemical composition of the oils, their uses and effect on the body. We covered safety precautions based on science and chemical reactions, and science-based ethical standards of practice. And considering all these factors, how these oils can work with an individual holistically by taking into consideration ALL that is going on with each person. It is a true form of individualized treatment! What you will learn in these classes far exceed the National Association for Holistic Aromatherapy (NAHA) requirements. "Her course work is amazing and thorough and is for every healing practitioner serious about working in a holistic way with clients and patients" ~Mary Laven, Executive Director of Wind over Fire Healing Arts Center, Rochester, MN.
I have been blown away by the series 1 and 2 classes for Clinical Aromatherapy Certification. Never before have I been so excited about learning. Christina is an amazing teacher who inspires us all to be our best selves. The class was very in depth and informative, yet fun and light. Thank you so much Christina. ~Ann Fothergill, Registered Dental Hygienist, Milwaukee, WI
I became interested in Essential Oils and read so much different types of advice on using them. The more I read the more confusing things became. I began searching for some type of class to learn safety and they always seamed to lead to someone selling a mass marketing product. I really wanted to learn from someone not pushing anything which led me to Christina. I signed up for level one… I have to say the knowledge I gained from her is invaluable.. Her classes were well planned and fun! I highly recommend learning from someone with a passion for safety and sharing her vast knowledge with her students.~Nancy Yaeger, Wisconsin