Free Webinar!
'Grounding and Earthing'
with Dr. Christina Wilke-Burbach
Thursday September 28, 2017 
from 6pm to 7pm CST
Space is limited! First come, first served! Register at bottom of page!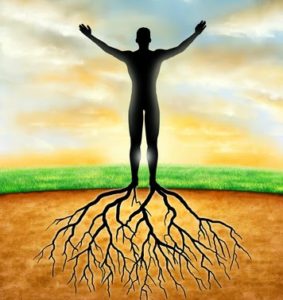 There is much turmoil going on right now with Earth's elements; especially with Mother Ocean. It is hurricane season. Hurricane Harvey just brutally hit Texas, Hurricane Irma hit the Caribbean Islands and Florida, and Hurricane Maria just devastated Puerto Rico. There is flooding in Asia with the monsoons. The fire element is also strong right now as there are wildfires out West in Montana and California. Many disrespect nature and her creations with litter, pollution, and destruction. She unleashes her power to demand our respect. How do you honor and respect the Earth? Are you part of the problem or the solution?
This month, the universe asks you to explore your connection to Mother Earth and Mother Ocean. How connected are you to the Earth?  Are you aware that Earth is a living entity? Do you respect the power of nature? Are you a protector of Earth and Nature? Many are disconnected to the earth and lack a direct physical connection to the elements. 
This free one hour webinar with Dr. Christina will discuss grounding and earthing and cover how to connect to Mother Earth through super grounding techniques, including how to plug into the Earth's crystalline grid and how to ground through all of the elements (earth, air, wind, and fire). We will hold space for Earth healing and class will include a guided meditation. 
When we deeply connect with Mother Earth, we can start making choices to take better care of the Earth, to be an Earth Protector. We respect the Earth and Nature. We do not pollute, destroy, and harm her. We help Mother Earth and give her and her creations aide in time of need. We are in harmony with all of those who walk upon the Earth. We have love and gratitude for the animals, birds, flowers, trees, plants, oceans, lakes, rivers, forests, hills, mountains, earth, water, fire, and air.  Open yourself to the power of the Earth, Sky, and Ocean. Doing so will strengthen your connection to Mother Earth and her powerful energies.
Required for live sessions (webinar/teleconference):
This series is available to those in The United States and Canada. Dr. Christina is located in Wisconsin and is in Central Standard Time zone. Live group sessions are presented in Real Time/Streaming and will feature a webinar style presentation along with a live video presentation and chat options.  Dr. Christina will email participants login info 24 hours before class. You will need a webcam, microphone and speakers (or a headset) to participate in the live sessions.  A headset is preferred as it has the best sound quality and minimizes feedback and echoing.  The live group sessions can also be accessed via laptops, smart phones, and tablets. You will be able to see, hear, and interact with Christina and the other group members. If you do not have access to a webcam and headset, you may also call in to participate in class via your telephone or cellphone.  Space is limited….group sizes are small with lots of personal attention.
About Dr. Christina Wilke-Burbach: Christina Wilke-Burbach PhD, RMT, CA is a scholar, teacher, consultant, spiritual counselor, and holistic healing facilitator with over 19 years of higher education and experience in psychology, spirituality, holistic healing, and natural health. Her business is Mind, Soul, and Self LLC. She has her PhD in Health Psychology, Master's Degree in Clinical Psychology, 2 bachelor degrees in psychology and anthropology, a minor in Sociology, and is trained in Transpersonal Psychology. She is a Certified Aromatherapist, Herbalist, Master Gardener, Reiki Master Teacher, Ordained Minister, Awakening Your Light Body Graduate, Intuitive, and Bodyworker. She specializes in women's wellness, holistic healing, personal growth, and spiritual development. Christina is an expert in working with the Chakras. The Chakras are the foundation of her business. She has presented at academic conferences and has taught hundreds of classes, workshops, and group sessions throughout the Midwest and beyond. She is a published author and award winning researcher and healthcare provider. She was an instructor in the Institute for Intuitive Arts and Sciences in Madison, WI. She combines science with intuition. She strongly believes in empowering others to heal themselves. For more information, please visit https://mindsoulandself.com/about-dr-christina-wilke-burbach/
To register: Space is limited! First come, first served. You must register by September 27, 2017! Please fill out the form below and you will be emailed login info within 48 hours of registering. 
Free Webinar Registration