The Goddess Gathering:
Spiritual Awakening Support Group & Metaphysical Study Group
with Christina Wilke-Burbach PhD, RMT
Next Meeting: Saturday March 28, 2020
9am to 1pm
at Mind, Soul, and Self LLC
1310 Wisconsin Ave in Sheboygan, WI
This group aims to create a safe space for Awakening Women to gather, share, and discuss metaphysical, esoteric, and deep spiritual topics without fear of being judged or ridiculed.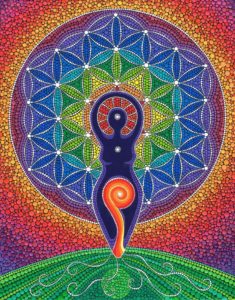 Space is limited! Registration closes March 26, 2020
"People need to be in connection in order to change, open up, shift, transform, heal and grow" (Jordan & Hartling, 2002)
At the Goddess Gathering, come meet and connect with other women having spiritual awakenings! This is a support group for women experiencing the surreal and often unexplainable. Participants are those who are living and actively participating in the real world, but are spiritually waking up to something much more. This group acknowledges that many may have experiences that might sound crazy and impossible to "mainstream society." No experiences are judged in these gatherings. The Goddess Gathering is a support group, discussion group, and sacred space for women looking for guidance, understanding, meaning, and connection on their spiritual awakening journey. In this support group, members in similar spiritual situations come together for self-exploration, to share coping strategies, to feel more empowered, to find purpose, and for a sense of community. This support group may discuss relevant metaphysical & esoteric topics, share information, relate personal experiences, actively listen to and validate each others' experiences, provide sympathetic understanding, and establish a social network.
Who is this group for? This is a support group and study group for women experiencing the surreal and often unexplainable. The Goddess Gathering is for women sensitive to others' energy/emotions (Empaths), women looking to understand & develop their intuitive/psychic gifts, women undergoing a spiritual transformation/awakening, starseeds, lightworkers, walk-ins, shamans, Indigo/Rainbow/Crystal/Diamond Children, women who have had near-death experiences, mystical experiences, kundalini awakening, healing crisis, spiritual emergencies, ascension symptoms, past life experiences, experiences with the divine, peak experiences, dark night of the soul, crisis leading to personal transformation, intuitive/psychic/medium experiences, and other hard to describe spiritual experiences. The impossible is possible! Any woman who has had spiritual experiences (such as those described above) and is on a spiritual awakening journey is welcome – no matter if they are a "beginner" or more advanced. Women from all over Wisconsin attend this group…Sheboygan, Fond du Lac, Manitowoc, Milwaukee, Green Bay, Appleton, Madison, and beyond.
We discuss relevant metaphysical & esoteric topics. Some topics we cover in our gatherings:
● Experiences of awakening and spiritual emergence
● Communication with other dimensions, the spirit world, the divine, angels, ancestors, light-beings
● Finding our soul purpose
● Personal stories of healing and transformation
● Trying to maintain a normal career & family life while experiencing an Awakening
● Managing new psychic and intuitive skills: clairvoyance, clairaudience, clairsentience, etc.
● The struggles of being an empath
● Helpful healing modalities to assist with the Awakening
● Psychic protection, energy clearing, the Chakras, Reiki, the Aura, The Light Body, Energy modalities
● Past Lives, the Astral Realm, Higher States of Consciousness, Synchronicity
Group Format: This is a safe, non-judgemental, and supported space to freely and openly discuss your journey and experiences, to connect, and to learn more about your own personal growth, spirituality, metaphysics, and healing. Dr. Christina facilitates and leads this group experience. In 2005 Christina had a near-death experience (walk-in) and spiritual awakening that transformed her life. Christina left the clinical psychology world and pursued training in Transpersonal Psychology. For over 11 years, she has facilitated hundreds of group classes, retreats, and events with thousands of women. Part of the magic of these group events is the acceptance, connection, understanding, and community that is created. The Goddess Gathering uses a women's circle format and each participant has time to discuss, provide feedback, ask questions, and share their experiences with the group. Receive mentoring and guidance from Christina and other group participants. Discuss common themes and topics. Group will open with a guided meditation and after everyone has a chance to share, Christina will lead the group in a discussion/study of a relevant metaphysical topic. Everyone will also receive an intuitive message/mini-reading. Energy exchange: $25
Please note: This group should not take the place of regular mental and physical healthcare. You must be at least 18 to join this group.
2020 Meetings: The Goddess Gathering is held approximately every 4 to 6 weeks. You are welcome to come once and check it out or attend every group for regular support, community, and guidance. We have a number of women that attend every group, some that attend once in a while as their schedule allows, and we usually have new women that come to check the group out every meeting. The next Goddess Gathering will be March 28 from 9am to 1pm. Additional 2020 Goddess Gathering dates include April 25, May 30, June 27, August 1, August 29, October 24, and December 12.
Meeting Metaphysical Topics:
March 28th topic: The Three Waves of Volunteers and The New Earth. Suggested book to guide March 28th Goddess Gathering discussion: The Three Waves of Volunteers and The New Earth by Delores Cannon. After we all check-in, discuss whats going on in our lives, and give each other support, we'll discuss how our own stories of spiritual awakening relate to the themes and topics in Three Waves of Volunteers. 
April 25th topic: Spiritual Emergency, Dark Night of the Soul, & Psychic Abilities vs. Mental Illness, Depression, Anxiety, & Psychosis. Suggest books to guide our discussion: The Stormy Search for the Self by Christina Grof and/or Spiritual Emergency by Stan Grof and Christina Grof
May 30th topic: Divine Feminine. Please bring a token, momento, or picture of a special woman who has impacted your life in a positive way…mother, friend, mentor, teacher, book author, a fictional character in a book/tv show/movie, etc

Please note, you do not have to read the books to attend the gatherings. The books are just a suggestion to enhance your experience.

 
Facebook Group and Suggested Books: Christina has a private Facebook group for the Goddesses to stay connected to each other in between groups. There are also suggested books to read to keep connected and supported in-between groups. Current suggested books:
When the Impossible Happens by Stan Grof MD, PhD

The Hero with a Thousand Faces (The Collected Works of Joseph Campbell).
About Dr. Christina: Christina Wilke-Burbach PhD, RMT, CA is a scholar, teacher, consultant, spiritual counselor, and holistic healing facilitator with 22 years of higher education and experience in psychology, spirituality, and holistic healing. She specializes in Women's Spiritual and Emotional Wellness. Her business is Mind, Soul, and Self LLC. She has her PhD in Health Psychology, Master's Degree in Clinical Psychology, 2 bachelor degrees in psychology and anthropology, a minor in Sociology, and is trained in Transpersonal Psychology, having studied with Stan Grof MD, PhD-the founder of the field. She is a Certified Aromatherapist, Herbalist, Master Gardener, Natural Perfumer, Reiki Master Teacher, Docent, Ordained Minister, Awakening Your Light Body Graduate, Intuitive, and Bodyworker. She is a published author and award-winning researcher and healthcare provider. She was an instructor in the Institute for Intuitive Arts and Sciences in Madison, WI. She strongly believes in empowering others to heal themselves. For more information, please visit https://mindsoulandself.com/about-dr-christina-wilke-burbach
Office Location: Mind, Soul and Self LLC/Dr. Christina Wilke-Burbach's Office is located in The Riverbend District of Sheboygan, Wisconsin (right by the Sheboygan River) at 1310 Wisconsin Avenue, 1st Floor, Studio 105, Sheboygan, WI 53081. Easily accessible from Highways 23 and 43. Located 50 minutes north of Milwaukee and 60 minutes south of Green Bay and Appleton, Wisconsin. If you are coming from out of town and want to stay overnight, the following hotels are all a mile from Dr. Christina's office: Blue Harbor (725 Blue Harbor Drive Sheboygan, WI 53081), Harbor Winds Hotel (905 S. 8th St, Sheboygan, WI 53081), Econolodge (723 Center Street) or The Grandstay Residential Suites (708 Niagara Ave Sheboygan, WI). We are a block away from Starbucks and Glas Cafe and 5 blocks away from downtown Sheboygan and restaurants like Field to Fork, Black Pig, Il Ritrovo, Paradigm, Urbane, and Trattoria Stefano. We are also 1/2 mile away from John Michael Kohler Arts Center and Stephanie Weill Performing Arts Center.
Registration: Space is limited! Registration closes March 26, 2020 or when space is full! Please contact Dr. Christina with any questions at mindsoulandself@yahoo.com. To register, please pay the $25 fee via the Paypal cart below. Please note, due to the limited space at this event, if you cancel your attendance your payment is non-refundable. Also, please note that this is a safe space open to adult women over 18 years. By paying the fee/registering, you acknowledge that you understand:
This is a group for adult women over 18 years old experiencing a spiritual awakening.

We discuss metaphysical and esoteric topics.

This group is a safe, peaceful, and harmonious setting.

This is a judgment-free zone.

No weapons (pepper spray, knives, guns, etc) are allowed.

You agree to work well with others during the group and be peaceful, cooperative, and respectful.

You agree to leave your cellphone in your car or purse and not use it during the group.

Verbal aggression, physical aggression, disturbing the group, and interfering with others' experience is absolutely not tolerated.

If you disturb the peace in any way, disrupt the group, or act inappropriately, you will be asked to leave immediately with no refund.