-Media Meditation-
Using Television & Movies for Self-Exploration & Personal Growth
Where pop culture, psychology, and personal growth unite!
Live online workshop/teleseminar with Christina Wilke-Burbach PhD
Wednesday February 28, 2018
6pm to 8pm CST
Registration closes February 26, 2018 at 12pm CST.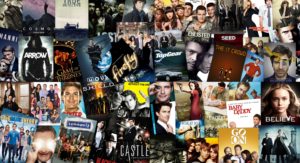 Are you a fan of Game of Thrones? Lord of the Rings? Harry Potter? Star Wars? Wonder Woman? Walking Dead? Doctor Who? Supernatural? Gotham? Me too!!! My almost 20 years of experience working in mental health, personal growth, and psychology has taught me that conventional talk therapies do not work for everyone and that transformation occurs at a deeper level. My mission is to share and promote alternative modalities and methods for personal growth and self-exploration.  I am a fangirl and pop culture 'nerd' and love the idea of merging media with psychology! I am a frequent pop culture convention goer and have been to Comic Con, the largest pop culture convention in the world, numerous times. I am a huge fan of Game of Thrones, Walking Dead, Fear the Walking Dead, Supernatural, Doctor Who, Orphan Black, Gotham, Penny Dreadful, Shameless, and American Horror Story. Join me on this new and exciting personal growth journey!
About The Online workshop: Online streaming, On Demand, Hulu, and Netflix have dramatically changed the entertainment landscape. Television and movies have never been better than they are right now. Binge-watching is a cultural phenomenon. People cannot get enough. We consume media at massive quantities. Why are we so obsessed with TV and movies? Why do we get so attached to our favorite fictional characters? Why do we get so addicted to certain TV shows? Why do fandoms exist and some shows become elevated to cult-like status? Let's explore some of these big questions together and take an inner journey of personal growth and self-exploration using media as our guide. 
This online interactive workshop will explore the Psychology of Media, fandoms, television shows, and movies. We will dive deep into television and movies and go beyond watching for entertainment. We will combine media, meditation, psychology, and spirituality and use television and movie watching as a powerful tool for personal growth. You will learn how to analyze character development, plot development, and storylines through the viewpoint of archetypes, myths, legends, and the Hero's Journey. We will then discuss how to apply these concepts to your own life.
Media Psychology is a new and emerging field of psychology that focuses on the interaction of human behavior, media, communication, and technology. It explores how mass media influences our lives, emotions, feelings, thoughts, the collective culture, social interactions, and behavior. Meditation is a popular form of mind/body medicine and has been described as a method to gain clarity and mental silence through control of attention (Ospina et al., 2007). There are many different meditation techniques. In a nutshell, meditation is any activity that keeps your consciousness anchored in the here and the now. Spirituality is the search for the sacred and deeper meaning in our lives. It also involves personal growth, self-exploration, and trying to "be the best me I can be in this lifetime." When we combine all of this together: the meaningful use of media, meditation, psychology, and spiritual exploration, we have the new concept of Media Meditation! 
In this online interactive workshop, we will discuss:
• The Psychology of Pop Culture and Media
• The Psychology of Origin Stories
• The use of myths, legends, archetypes, symbols, and the hero's journey in fiction and how to apply to your life for personal growth
• Using media as a form of meditation
• How to use television and movies for personal transformation and social change
• Fandoms and media as a way to connect to others
 ** FAQ and group discussion at end of the workshop!!!
Required for live online sessions (webinar/teleconference):
This workshop is available to those in The United States and Canada. Dr. Christina is located in Wisconsin and is in Central Standard Time zone. Live online workshops are presented in Real Time/Streaming and will feature a webinar style presentation along with a live video presentation and chat options.  Dr. Christina will email participants login info 24 hours before class. You will need a microphone and speakers (or a headset) to participate in the live online sessions.  A headset is preferred as it has the best sound quality and minimizes feedback and echoing.  The live group sessions can also be accessed via laptops, smart phones, and tablets. You will be able to see, hear, and interact with Christina and the other group members. If you do not have access to a webcam, speakers,  and headset, you may also call in to participate in class via your telephone or cellphone.  All registered participants will receive a recording of the workshop, so if you can't join us live you can still take the class!
Class Fee: Registration fee is $35. Registration fee includes the 2 hour live online class, a detailed workbook in PDF form, personal growth exercises, and additional written resources. I would LOVE to also start a forum or Facebook group so we can keep the discussion going after the class is done!
ABOUT DR CHRISTINA WILKE-BURBACH: Christina Wilke-Burbach PhD, RMT, CA is a scholar, teacher, consultant, spiritual counselor, and holistic healing facilitator with over 19 years of higher education and experience in psychology, and spirituality, and holistic healing. Her business is Mind, Soul, and Self LLC. She has her PhD in Health Psychology, Master's Degree in Clinical Psychology, 2 bachelor degrees in psychology and anthropology, a minor in Sociology, and is trained in Transpersonal Psychology. She is a Certified Aromatherapist, Herbalist, Master Gardener, Reiki Master Teacher, Ordained Minister, Awakening Your Light Body Graduate, Intuitive, and Bodyworker. She is largely involved in pop culture and has attended Comic Con and numerous other fan conventions. She is a crisis responder for IMAlive, the world's first online crisis network. IMAlive largely supports the fans and families of the TV show Supernatural and others in crisis around the globe. Christina has presented at academic conferences and has taught hundreds of classes, workshops, and group sessions throughout the Midwest, California, and beyond. She is a published author and award winning researcher and healthcare provider. She was an instructor in the Institute for Intuitive Arts and Sciences in Madison, WI. She strongly believes in empowering others to heal themselves. For more information, please visit https://mindsoulandself.com/about-dr-christina-wilke-burbach/
Here is selection of photos of Dr. Christina and her sister with actors from the TV shows Supernatural, Arrow, Walking Dead, Penny Dreadful, and Game of Thrones: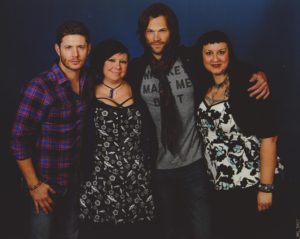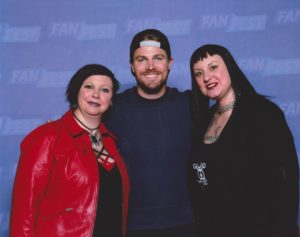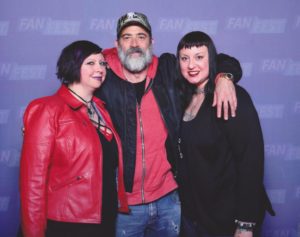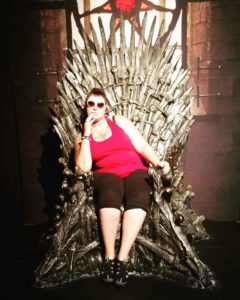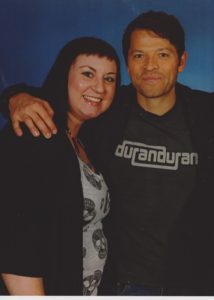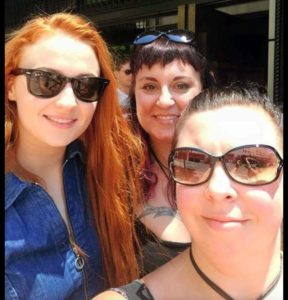 Registration Info: Registration closes February 26, 2018 at 12pm. Contact Dr. Christina Wilke-Burbach with any questions: mindsoulandself@yahoo.com or 608.393.7353. To register, pay for the class in full and within 24 to 48 hours Dr. Christina will confirm your registration.  24 hours before the workshop all participants will be send the call in/login information. All registered participants will receive a recording of the class 48 hours after the workshop. Please note, all sales are final.