Mind, Soul, and Self LLC and Dr. Christina Wilke-Burbach present:
"The Chakras and Energy Healing"
Women's Summer Solstice Chakra Retreat
Online/At Your Home!
8 hour downloadable/online Retreat!
Available for purchase June 18 to 23, 2020 only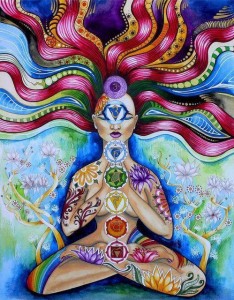 2020 has certainly been a very interesting year! For numerous reasons, we decided to cancel our face to face Summer Solstice 2020 Day Retreat. Instead, Christina decided to offer the entire retreat online/on-demand.  The topic of this recorded retreat is exactly what the topic and content of the face to face retreat was going to be.  This 8+ hour guided Chakra & Energy Healing Retreat is previously recorded and downloadable. Yours to keep! Listen/watch again and again in the comfort and privacy of your own home at times most convenient for you.
The Chakras are the main energy centers in our subtle bodies. They are the openings for life energy to flow into and out of our aura or electromagnetic field. There are 8 main Chakras, minor, subpersonal, and transpersonal chakras. The Chakras' function is to vitalize the physical body and to bring about the development of our self-consciousness. Each chakra is associated with certain physical, mental, emotional, and spiritual interactions. Low energy or slow energy in a chakra (or the entire system) can lead to disharmony, dis-ease, maladaptive patterns, low vibrating emotions, stress, and/or fatigue.
In this 8+ hour pre-recorded, downloadable at home online Chakra Retreat, you will learn about the 8 main energy flows and nadis that create the Chakras. We will discuss ways to strengthen these channels. If these flows of energy are off balance and weak, then it should be no surprise that the Chakra system needs work. We will review in detail the main (personal) chakras and briefly cover the minor chakras, transpersonal chakras, and subpersonal chakras. You will learn their location, themes, functions, and purpose. We will also cover the aura and healthy/unhealthy aura energy. You will also experience several energy modalities to clear the energy in your chakras and aura and bring your mind, body, and spirit into balance:
Summer Solstice Chakra Retreat Itinerary (Online Previously Recorded and Downloadable)
Summer Solstice Meditation & Chakra Yoga Nidra (45 minutes long)
Chakra Energy Group with Dr. Christina: The Aura, Nadis, Major Chakras, Minor Chakras, Subpersonal Chakras, & Transpersonal Chakras (5.5 hours long)
Chakra Tai Chi (33 minutes long)
Chakra Healing with Dr. Christina: Cleanse & Release hypnosis/guided healing session (cord cutting, chakra balancing, super grounding etc) (67 minutes long)
Chakra Summer Solstice Fire Ceremony (20 minutes long)
Bonus! Chakra and Aura Cleansing meditation (30 minutes long)
Includes a detailed manual!!
Fee: $75 for all 8 hours.  Summer Solstice Meditation & Chakra Yoga Nidra (45 minutes long) available by itself for $20. Available for purchase June 18 to 23, 2020 only
Online Retreat: 
Take the retreat in the comfort and safety of your own home!

You do not need to be technology savvy. If you can turn on a computer and check your email, you can take an online retreat. Its super simple…no advanced skills are needed.

You can complete the retreat at your own pace.

The online retreat recordings are in mp3 and mp4 formats (audio and visual components)

Within less than 24 hours after receiving payment, Dr. Christina will email you the recordings and workbook

Students can download and watch/listen to the recordings as many times as they want!

Each class also includes a detailed workbook and extensive written materials in PDF format

Dr. Christina is highly responsive and quickly replies to your emails if you have any questions.

Optional Individual consultation with Dr. Christina: You can add a 30-minute or 60-minute phone or webcam consultation with Dr. Christina to your retreat purchase for a discounted rate of $40 for 30 minutes (normally $50) and $80 for 60 minutes (normally $100). Email Dr. Christina to schedule at mindsoulandself@yahoo.com
About Dr. Christina Wilke-Burbach: Christina Wilke-Burbach PhD, RMT, CA is a scholar, teacher, consultant, spiritual counselor, and holistic healing facilitator with 22 years of higher education and experience in psychology, spirituality, holistic healing, and natural health. Her business is Mind, Soul, and Self LLC. She has her PhD in Health Psychology, Master's Degree in Clinical Psychology, 2 bachelor degrees in psychology and anthropology, a minor in Sociology, and is trained in Transpersonal Psychology, having studied with Stan Grof MD, PhD-the father of Transpersonal Psychology. She is a Certified Aromatherapist, Herbalist, Reiki Master Teacher, Ordained Minister, Awakening Your Light Body Graduate, Intuitive, and Bodyworker. She specializes in women's wellness, holistic healing, personal growth, and spiritual development. She has presented at academic conferences and has taught hundreds of classes, workshops, and group sessions throughout the Midwest and beyond. She is a published author and award-winning researcher and healthcare provider. She was an instructor in the Institute for Intuitive Arts and Sciences in Madison, WI. She combines science with intuition. She strongly believes in empowering others to heal themselves. For more information, please visit https://mindsoulandself.com/about-dr-christina-wilke-burbach/
To Purchase: Purchase at the PayPal Cart below. Dr. Christina will confirm your purchase within 24 hours of receiving your payment and will send you the login info to access and download the online retreat recordings. All sales are final. Available for purchase June 18 to 23, 2020 only