Ancestral (Family Lineage) Healing Event
With Christina Wilke-Burbach PhD and
Psychic Medium Brenda LouAnn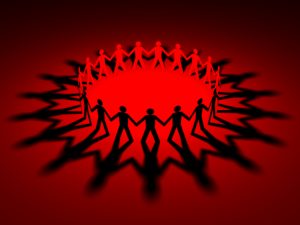 Saturday November 14, 2020
9am to 8pm
at Mind, Soul, and Self LLC
1310 Wisconsin Ave in Sheboygan, WI
This is a Small Group Event! Space is limited!!
Registration closes November 11, 2020!
Click here for COVID-19 Safety and Prevention Policies at Mind, Soul, and Self LLC
The beginning of November is known by many names….Samhain, All Soul's Day, All Saints Day, Spirit Day, Dia de los Muertos, Hallowtide, Shadow Fest, and Harvest Home. November marks the end of the harvest season and the beginning of winter or the "darker half" of the year. November is a time of transition. We move from the harvest of autumn to the time of rest and rejuvenation of winter. November 14th is about halfway between the autumn equinox and the winter solstice. Days grow shorter and the night grows longer. The beginning of November is seen as a liminal time, when the boundary between this world and the Spirit world can more easily be crossed. This incredible day of healing will focus on healing yourself by healing your family lineage and ancestors.  This is the best time of year to do this work since the Spirit World is more accessible. The holiday season also begins later this month with Thanksgiving. This is a powerful time of healing as the energy of family, lineage, traditions, and ancestors are strong in the collective consciousness. 
Ancestral Healing is a Spiritual Healing session and based on the belief that what happened in your family, before your current life, is present or alive in your energy field today. Since energy is never lost, but simply changes form over time, emotional issues or problems that were not dealt with by your ancestors, or not fully resolved, can accumulate in your energy field today, creating an imbalance. Any unresolved conflict your ancestors had – including unhealed emotional wounds, traumatic experiences, tragedies, hardships, problems, and other limitations – may be in your energetic field/psyche, since this is part of the larger energy pattern of your entire family lineage. Many of us already have a feeling certain patterns, issues and concerns have been handed down through our family line, often for generations. Scientists are now able to identify biological and psychological markers — evidence that traumas can and do pass down from one generation to the next. Much epigenetic research has been done with the family of the survivors of the Holocaust. Their children and grandchildren inherit their trauma as they are born with low cortisol levels predisposing them to PTSD and mental health problems.
Ancestral Healing allows us to make peace with the members of our family, forgive them, and help them heal their unresolved emotional issues, problems or trauma, going back many generations. In so doing, it releases you from any energetic patterns and energetic cords that link you to them – patterns that can have a disruptive influence on your life today. When we have an ancestor from our past that needs healing, they hang on energetically to our family line and create negative energetic structures. This causes us to have a harder time letting go of things that no longer serve us and leaves us feeling like we are stuck. We may notice that we repeat the same patterns over and over. We know that this is causing us pain, but feel like there is no way out. Ancestral healing is extremely beneficial for many people because when we release and heal these ancestral patterns, any blockages we have in our lives clear and heal. This too can clear the way for our children and future descendants. And don't worry, you don't need to know anything/everything about your lineage(s)/ancestors or even be in a good relationship with them to do this work.
There are several reasons to do ancestral healing:
You don't feel like you belong in your family, or have always carried a feeling of disconnection or being a "black sheep"

Your family often tells stories of how the family is "cursed" or how all the men in this family are alcoholic, or all the women die young

etc

.

You see patterns, issues, behaviors or traits that are extremely obvious that run down your family line and affect your life. You feel the burden of those who came before you.

A feeling of being "stuck" no matter how much healing and personal growth work you do

Physical, emotional, or behavioral problems that do not seem to originate in your lifetime or with you

You are experiencing recurring patterns where things get in the way of you feeling satisfied, enriched or successful

You know an ancestor of yours experienced a Traumatic Event (Holocaust, Murder, War, Famine, Mental Hospital, Imprisionment, etc)

You see unhealthy family patterns playing out in your children and grandchildren and want to break the cycle

There is a lot of dysfunction in your family
Dia de los Muertos/All Saints Day/Spirit Day/All Soul's Day are holidays in early November to remember your ancestors. We will be building an offrenda to remember and honor them. Please bring photos or an object or a token or a momento that represents or reminds you of someone who has passed away in your family that was important to you. We will each take turns sharing our items and remembering our ancestors as part of our ancestral healing session.
After we honor and discuss our ancestors and those who came before us, we will identify and assess our 4 Primary Blood Lineages (Grandparents). You will identify how each lineage has impacted and influenced you. This is essential in preparing to do the Ancestral healing session. Then, after our lunch break, Dr. Christina will guide you into a deeply relaxed hypnotic state. Here she will facilitate your meeting and connection to a healthy Ancestral Guide. Your Ancestral Guide will give you more insight into your family's patterns and unresolved energy. Then, with your guide's assistance, you will clear unhealthy ancestral energy, cut cords of attachment, forgive your ancestors, and bless the lineage backward and forward. After the session, there is a ritual/ceremony that is required for the completion of the work. This piece is an important aspect of the healing, as we take responsibility for our ancestors and work to heal them and ourselves. 
After the Ancestral Healing Session, there will be a Group Gallery Reading. Christina is proud to host the talented psychic medium Brenda LouAnn.  Christina and Brenda have collaborated together professionally for 10 years and are good friends. Christina highly respects Brenda's ethics and accuracy as a psychic medium. Those who have met Brenda can also attest her personality makes the Gallery events highly entertaining and enjoyable.  Gallery readings are group intuitive readings and give participants an opportunity to receive messages from and communicate with their loved ones, ancestors, and family who have passed on into the world of spirit. Space is limited so everyone can receive a message. You'll be able to connect to your ancestors and family, ask questions, and receive intuitive answers from Brenda. Gallery Readings bring the opportunity to witness mediumship, the spirit world, connection, and healing. This is going to be an incredible day. Join us!
Itinerary:
9am to 12pm: Welcome, Introductions, Setting of Intent, Discussion of Ancestors, Building of Offrenda, Assessing and Identifying 4 Primary Blood Lineages (Grandparents)
12pm to 1pm: Lunch Break
1pm to 5pm Ancestral Healing Session and Processing
5pm to 6pm: Supper Break
6pm to 8pm: Gallery Reading with Psychic Medium Brenda and Refreshments 
Energy Exchange: $299 per person. Includes 7 hour workshop and ancestral healing session with Dr. Christina, refreshments, and attendance at 2-hour gallery reading with Psychic Medium Brenda.
Preparation: Please arrive 5 to 10 minutes early so we can start on time. Please bring pen/paper to take notes and to journal. Please bring a photo or an object or a token or a momento that represents or reminds you of someone who has passed away in your family that was important to you. During the Ancestral Healing session, you will be in a deeply relaxed hypnotic state. Please bring a yoga mat to lie on as well as a pillow, blanket, and something to cover your eyes (like an eye pillow or eye mask). For the Gallery Reading, it is helpful to bring pictures of loved ones in spirit to help Brenda connect. For the best experience, please prepare and bring questions you would like to ask your loved ones. Please also turn off cellphones before you arrive. There are to be no interruptions or disturbances during the event. We will take a 60 minute lunch break and 60 minute supper break. Please either bring food along or Glas Cafe and Starbucks are right across the street. 
About The Facilitator: Christina Wilke-Burbach PhD, RMT, CA is a scholar, teacher, consultant, spiritual counselor, and holistic healing facilitator with over 20 years of higher education and experience in psychology, spirituality, holistic healing, and natural health. She has a PhD in Health Psychology, Master's Degree in Clinical Psychology, 2 bachelor degrees in psychology and anthropology, and a minor in Sociology. Christina has additional education and post-doctoral training in Transpersonal Psychology (Holotropic techniques, Psychonautics, Spiritual Emergencies, Shamanic Approaches, Plant Medicine, Archetypal Astrology), and has attended workshops, training, and classes with Dr. Stan Grof MD, PhD founder of the field of Transpersonal Psychology and his late wife, Christina Grof PhD. Christina is also a Certified Aromatherapist, Herbalist, Master Gardener, Reiki Master Teacher, Ordained Minister, Docent, and Bodyworker. She specializes in women's holistic wellness, spiritual psychology, plant medicine, personal growth, and spiritual development. Christina is a spiritual counselor; combining psychology, spirituality, and intuition into her healing appointments. For more info, please visit: https://mindsoulandself.com/about-dr-christina-wilke-burbach/
Psychic Medium: Brenda LouAnn. Since an early age, Brenda has been blessed with the gifts of clairsentience and an inquisitive mind. These talents have lead her along numerous paths in life that few seldom trod. Let this gifted and insightful lady shine light onto your pathways through palmistry and the eyes of a psychic.
Location: Mind, Soul and Self LLC/Dr. Christina Wilke-Burbach's Office is located in The Riverbend District of Sheboygan, Wisconsin (right by the Sheboygan River) at 1310 Wisconsin Avenue, 1st Floor, Studio 105, Sheboygan, WI 53081. Easily accessible from Highways 23 and 43. Located 50 minutes north of Milwaukee and 60 minutes south of Green Bay and Appleton, Wisconsin. If you are coming from out of town and want to stay overnight, the following hotels are all a mile from Dr. Christina's office: Blue Harbor (725 Blue Harbor Drive Sheboygan, WI 53081), Harbor Winds Hotel (905 S. 8th St, Sheboygan, WI 53081), Econolodge (723 Center Street) or The Grandstay Residential Suites (708 Niagara Ave Sheboygan, WI). We are a block away from Starbucks and Glas Cafe and 5 blocks away from downtown Sheboygan and restaurants like Field to Fork, Black Pig, Il Ritrovo, Paradigm, Urbane, and Trattoria Stefano. We are also 1/2 mile away from John Michael Kohler Arts Center and Stephanie Weill Performing Arts Center.
Registration: Space is limited! Registration closes November 11, 2020 or when space is full! Please contact Dr. Christina with any questions at mindsoulandself@yahoo.com. To register, please pay at least the $100 deposit at the Paypal shopping cart below. The balance in full is due by November 4. Please note, due to the limited space at this event, if you cancel your attendance your deposit is non-refundable. Also, please note that this is a safe space. By registering, you acknowledge that you understand this group is a safe, peaceful, and harmonious setting. No weapons (pepper spray, knives, guns, etc) are allowed. You agree to work well with others during the group and be peaceful, cooperative, and respectful. You agree to leave your cellphone in your car or purse and not use it during the group. Verbal aggression, physical aggression, disturbing the group, and interfering with others' experience is absolutely not tolerated. If you disturb the peace in any way, disrupt the group, or act inappropriately, you will be asked to leave immediately with no refund. Click here for COVID-19 Safety and Prevention Policies at Mind, Soul, and Self LLC