'Bewitching Botanicals & Mystical Herbs'
-A Magical Herbalism Class-
With Christina Wilke-Burbach PhD, RMT, CA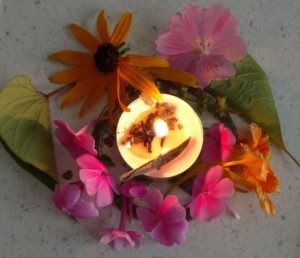 -Online Recorded Class-
About the class: The belief that herbs have magical and spiritual properties dates to the beginning of recorded history. Spiritual herbal traditions have been passed down through Shamanism, Paganism, Ayurveda, Traditional Chinese Medicine, Native American religions, Brujeria, and African-American Hoodoo. Class covers the history of magical and spiritual herbalism, bewitching botanicals, magical herbs, and how to use the power of plants for ritual, ceremony, celebration, healing, energy protection, energy clearing, transformation, manifestation, and spiritual wellness. We cover herbal preparations, including potions, brews, baths, incenses, dream pillows, candles, charms, and oils. We discuss astrological and elemental correspondences to herbs, herbal formulations, symbolism, an herbal grimoire, and you get lots of recipes! Class fee is $50 and includes a 2-hour recording, 20 minute guided herbal meditation, a detailed workbook, and lots of additional written materials
Optional Individual Herbal Tarot Reading with Dr. Christina: You can add a 30-minute or 60-minute phone or webcam herbal tarot reading with Dr. Christina to your class purchase for a discounted rate of $40 for 30 minutes (normally $50) and $80 for 60 minutes (normally $100). Email Dr. Christina to schedule your reading. Purchase below.
Recorded Online Program
Take the class in the comfort of your own home! You do not need to be technology savvy. If you can turn on a computer and check your email, you can take an online class. Its super simple…no advanced skills are needed.

You can complete the class at your own pace.

The class is a webinar with an audio and visual component (screen presentation)

Within 24 to 48 hours after receiving payment, Dr. Christina will email you the class recordings, class workbooks, and additional written materials for the entire program.

Students can download and watch/listen to the webinars via Windows Media Player, VLC, or

ITunes

as many times as they want!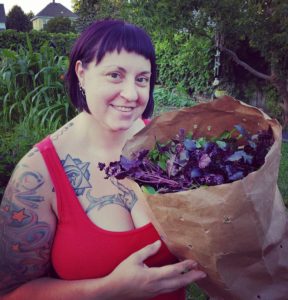 About Dr. Christina Wilke-Burbach: Christina Wilke-Burbach PhD, RMT, CA is a scholar, teacher, consultant, and holistic healing facilitator with 20 years of higher education and experience in psychology, spirituality, holistic healing, plant medicine, and natural health. Her business is Mind, Soul, and Self LLC. She has her PhD in Health Psychology, Master's Degree in Clinical Psychology, 2 bachelor degrees in psychology and anthropology, a minor in Sociology, and is trained in Transpersonal Psychology. She is a Certified Aromatherapist, Herbalist, Master Gardener, Reiki Master Teacher, Ordained Minister, Awakening Your Light Body Graduate, Intuitive, Docent, and Bodyworker. She is a member of the American Botanical Council. She specializes in women's wellness, holistic healing, personal growth, and spiritual development. She has hundreds of hours of Master Gardener, aromatherapy, herbs, gardening, plant medicine, entheogen, and horticultural education. She has presented at academic conferences and has taught hundreds of classes, workshops, and group sessions throughout the Midwest. She is a published author and award-winning researcher and healthcare provider. She strongly believes in empowering others to heal themselves. For more info, please visit: https://mindsoulandself.com/about-dr-christina-wilke-burbach/
Registration Info: Contact Dr. Christina Wilke-Burbach with any questions: mindsoulandself@yahoo.com or 608.393.7353. To register, please pay for class below. Within 24 to 48 hours Dr. Christina will send you the link to access the online class.  Please note, all sales are final.