'Bewitching Botanicals & Mystical Herbs'
-A Magical Herbalism Class-
With Christina Wilke-Burbach PhD, RMT, CA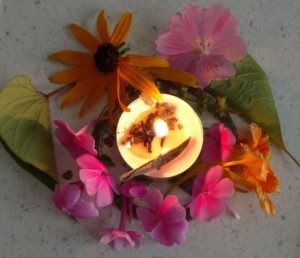 Saturday
October 13, 2018


9am

to

1pm
Mind, Soul, and Self LLC
728 Pennsylvania Avenue
Sheboygan, WI 53081


Registration closes October 10th
and
Wednesday
October 17, 2018




5:30pm to 9:30pm

Central Time Zone


LIVE ONLINE STREAMING

CLASS
Registration closes October 15 

About the class: October is my favorite time of the year! The harvest season ends and we transition into the "darker half" of the year; winter- a time of rest, reflection, and rejuvenation. As the days grow shorter and the night grows longer the boundary between this world and the Spirit world can more easily be crossed. This is the perfect time to explore the magic of nature! The belief that herbs have magical and spiritual properties dates to the beginning of recorded history. Spiritual herbal traditions have been passed down through Shamanism, Paganism, Ayurveda, Traditional Chinese Medicine, Native American religions, Brujeria, and African-American Hoodoo. Class will cover the history of magical and spiritual herbalism, bewitching botanicals, magical herbs, and how to use the power of plants for ritual, ceremony, celebration, healing, energy protection, energy clearing, transformation, manifestation, and spiritual wellness. We will cover herbal preparations, including potions, brews, baths, incenses, dream pillows, candles, charms, and oils. We will discuss astrological and elemental correspondences to herbs, herbal formulations, symbolism, an herbal grimoire, and you will get lots of recipes! We will make an herbal craft in class for you to take home (a similar activity will be included in the online class). Each student will also receive a mini-herbal intuitive tarot reading in class. Class includes a workbook and all materials. Class fee is $80. Save $10 if registered by September 30, 2018!

October 13th Class Location: Mind, Soul and Self LLC/Dr. Christina Wilke-Burbach's Office is located in beautiful downtown Sheboygan at 728 Pennsylvania Avenue, 2nd Floor, Sheboygan, WI 53081. Easily accessible from Highways 23 and 43. Located 50 minutes north of Milwaukee and 60 minutes south of Green Bay. If you are coming from out of town and want to stay overnight, the following hotels are all less than a mile from Dr. Christina's office: Blue Harbor (725 Blue Harbor Drive Sheboygan, WI 53081), Harbor Winds Hotel (905 S 8th St, Sheboygan, WI 53081) or The Grandstay Residential Suites (708 Niagara Ave Sheboygan, WI). There are numerous restaurants across the street on 8th Street including Field to Fork, Harvest Cafe, Il Rotrovo, Downtown Nutrition, and Paradigm.

October 17th  Live Online session (webconference/teleconference):
Take the class in the comfort of your own home! You do not need to be technology savvy. If you can turn on a computer and check your email, you can take an online class. Its super simple…no advanced skills are needed. This online group is available to those in The United States and Canada. Dr. Christina is located in Wisconsin and is in Central Standard Time zone. Live online workshops are presented in Real Time/Streaming and will feature a webinar style presentation along with a live video presentation and chat options. Dr. Christina will email participants login info 24 hours before class. You will need a microphone and speakers (or a headset) to participate in the live online sessions. A headset is preferred as it has the best sound quality and minimizes feedback and echoing. The live online group sessions can also be accessed via laptops, smartphones, and tablets. You will be able to see, hear, and interact with Christina and the other group members. If you do not have access to a webcam, speakers, and headset, you may also call in to participate in class via your telephone or cellphone. Class will be recorded and all participants will be sent the recording after the live class is completed. You can still sign up for the class even if you cannot attend the live class. But please note, the included mini Tarot Reading is only for those that attend the live class.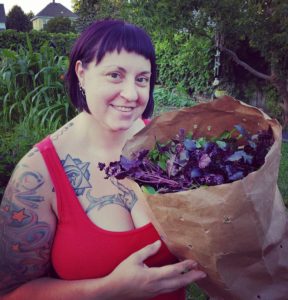 About Dr. Christina Wilke-Burbach: Christina Wilke-Burbach PhD, RMT, CA is a scholar, teacher, consultant, and holistic healing facilitator with 20 years of higher education and experience in psychology, spirituality, holistic healing, plant medicine, and natural health. Her business is Mind, Soul, and Self LLC. She has her PhD in Health Psychology, Master's Degree in Clinical Psychology, 2 bachelor degrees in psychology and anthropology, a minor in Sociology, and is trained in Transpersonal Psychology. She is a Certified Aromatherapist, Herbalist, Master Gardener, Reiki Master Teacher, Ordained Minister, Awakening Your Light Body Graduate, Intuitive, Docent, and Bodyworker. She is a member of the American Botanical Council. She specializes in women's wellness, holistic healing, personal growth, and spiritual development. She has hundreds of hours of Master Gardener, aromatherapy, herbs, gardening, plant medicine, entheogen, and horticultural education. She has presented at academic conferences and has taught hundreds of classes, workshops, and group sessions throughout the Midwest. She is a published author and award-winning researcher and healthcare provider. She strongly believes in empowering others to heal themselves. For more info, please visit: https://mindsoulandself.com/about-dr-christina-wilke-burbach/
Registration Info: Registration closes October 10, 2018  for the October 13th class and October 15, 2018 for the live online class on October 17th. Class registration will close sooner if space is full. Contact Dr. Christina Wilke-Burbach with any questions: mindsoulandself@yahoo.com or 608.393.7353. To register, please pay for class below. Save $10 if registered by September 30! Class size is limited to 10 students. Please note, if you cancel your attendance less than 48 hours before class there are no refunds.