Natural Perfumes, Accords, & Colognes
With Christina Wilke-Burbach PhD, RMT, CA
Saturday December 1, 2018
From 12pm to 5:30pm
at Mind, Soul, and Self
728 Pennsylvania Ave Sheboygan, WI
Celebrate the holiday season in a fun and unique way!
Registration closes November 23, 2018.
Early bird! Save $25 if registered by October 1, 2018!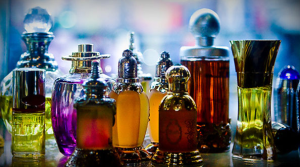 About the Class: Christina teaches this class only once a year every December! Celebrate the holiday season in a fun and unique way! Create your own customized perfumes and colognes and give yourself and others the gift of sensuality and aromatic bliss this Christmas! This class is an introduction to the art of natural perfumery. Essential oils are often described by their "note" and have been classified according to the musical scale. A perfect combination of notes will produce a harmonized blend. This class will introduce you to the Psychology of Perfumery, perfume accords, attars, enfleurage, perfume tinctures, the odophones, top notes, middle notes, base notes, fixatives, olfactive families, the fragrance wheel, perfume blending and perfume/cologne creation, how to smell perfumes, how to create perfumes, and other basic perfumery concepts. Students will experience the different essential oil notes and olfactive families, learn how to make chords, and will then create their own unique perfume or cologne blend of 100% pure essential oils to take home with them.  Length: 5.5 hours.  Fee: $175 per person (save $25 if registered by October 1, 2018).
December 1st class fee includes:  A glass of wine or tea, a detailed manual and written materials, a perfumer's sampler pack of 12+ unique essential oils, perfume supplies, a natural perfume blend you will create to take home, AND a bottle of one of Dr. Christina's exclusive natural perfumes.
Coming from out of town? Sheboygan is located between Milwaukee and Green Bay off Interstate 43. Dr. Christina recommends the Harbor Winds Hotel on S. 8th Street in Sheboygan for lodging. It is located down by the Lakefront with lots of yummy restaurants and cool shops in the area. Blue Harbor Resort is another option.
Private classes are available: Contact Dr. Christina to set up a group class at your location.  Individual Classes and Perfume Consultation is also available at Mind, Soul, and Self LLC in Sheboygan, WI! Please note, if you set up an individual class or perfume consultation it is $100 an hour for individual mentoring.
About Dr. Christina Wilke-Burbach: Christina has been professionally using aromatherapy for over 19 years. Christina is a member of the American Botanical Council. She is an educator, consultant, spiritual counselor, Certified Aromatherapist, Herbalist, Master Gardener, Reiki Master Teacher, ordained minister, intuitive, light worker, and an Awakening Your Light Body Graduate. Her business is Mind, Soul, and Self LLC based out of WI. She has her PhD in Health Psychology, a Masters degree in Clinical Psychology, 2 bachelor degrees in Psychology and Cultural Anthropology, and a minor in Sociology.  She worked in the mental health, health care, and addiction fields before starting her own business in 2007.  She has studied with Stan Grof, MD, PhD, the co-founder of the field of Transpersonal Psychology. She has presented at academic conferences and has taught hundreds of classes, workshops, and group sessions throughout the Midwest and beyond. She is a published author and award winning researcher and healthcare provider. She was an instructor in The Art of Healing School of Energy Medicine in Milwaukee, WI and at the Institute of Intuitive Arts and Sciences in Madison, WI. She combines science with intuition. For more info, please visit: https://mindsoulandself.com/about-dr-christina-wilke-burbach/
Registration: Please contact Dr. Christina at 608.393.7353 or mindsoulandself@yahoo.com with any questions. Register by paying the non-refundable $25 deposit at the shopping cart below. If you register by October 1, 2018 save $25! Class balance is then due by November 23, 2018. Please note, due to the amount of preparation that goes into class and the amount of supplies that are purchased for each student, all deposits and payments are non-refundable and non-transferable if you cancel your attendance after November 23, 2018.