Art, Music, and TranscenDANCE:
The power of non-verbal methods of holistic healing
With Christina Wilke-Burbach PhD
Saturday
June 16, 2018


9am

to

6pm
at

Mind, Soul, and Self LLC




728 Pennsylvania Ave in Sheboygan, WI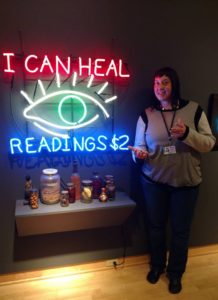 Space is limited!! This is a small women's wellness group experience!
Registration closes June 12. Register at bottom of this page.
Dr. Christina's experience working in the Western mental health and psychology field and her own personal healing experience has taught her that talk therapies and medications do not work for everyone and healing occurs at a deeper level. Often talk therapies and medications are Band-Aids and do not get to the root of the problem. Western Psychology also fails to acknowledge the spiritual and transcendent aspects of the psyche. Christina's own personal healing journey includes recovery from addiction (13 years sober as of May 1, 2018!!!) depression, suicidal ideation, and anxiety. Christina is also a survivor of Domestic Violence. She believes that we all have the power to heal, no matter how deep our wounds may be. Christina sought out Western Counseling in her healing journey but found meditation, yoga, a women's spiritual group, aromatherapy, herbal medicine, art, music, dance, and spirituality was what really saved her life. Her mission is to share these methods with others and help light up the world. Things can get better if you want them to. Christina has also come to understand, the only true ways to heal psychologically and emotionally, are non-verbal: through art, music, dance, altered states of consciousness, and bodywork/energy work. The language of the soul/psyche is symbols, images, colors, and patterns; we communicate this non-verbally. She has totally embraced the power of art as a gateway to the unconsciousness. Christina is very involved with John Michael Kohler Arts Center (JMKAC) in Sheboygan, WI. John Michael Kohler Arts Center is a not-for-profit art museum operated by the Sheboygan Arts Foundation and is known worldwide as an authority on self-taught artists and art environments. She is the chair of the JMKAC Indoor Gardens, is a member of the Friends of the Arts Council, and is a museum docent (teacher/tour guide).
This is a day of self-discovery! This workshop will explore Spirituality, Holistic Healing, Personal Growth, Transpersonal Psychology concepts, and music, art, and dance as doorways deep into the psyche to facilitate healing. This is a hands-on, experiential workshop. Christina's office is two blocks away from John Michael Kohler Arts Center. The Exhibition theme right now at JMKAC is 'Unseen Forces.' Three of the Galleries (The Healing Machine, a Tail of Two, and Funk Dreamscapes from the Invisible Parallel Universe) explore alternative methods of healing. As a part of this workshop, Dr. Christina will take you to JMKAC and guide you through the galleries and explore your response to the art. We will then return to Christina's office where you will be guided and prompted to create your own artwork to explore themes and patterns in your life. Part of the Unseen Forces Exhibition closes July 1st, so this is a great opportunity to experience the powerful artwork before then. Next door to Christina's office is also the new gallery, Abstract Expressions, scheduled to open May 1. We will also check out this gallery as a part of our process. The workshop will also have an experiential music and movement portion. You will experience art, movement, and music in this day-long workshop as well as take home numerous tools to utilize these non-verbal modalities in your own personal growth journey. Due to the limited nature of the Exhibition Galleries, this workshop is a once in a chance opportunity!
Fee: The fee is $185. Includes a donation to JMKAC, all supplies and materials, and a workbook.  We will also take a lunch break around 12pm/1pm.
About Dr. Christina: Christina Wilke-Burbach PhD, RMT, CA is a scholar, teacher, consultant, spiritual counselor, and holistic healing facilitator with over 19 years of higher education and experience in psychology, spirituality, holistic healing, and natural health. She has her PhD in Health Psychology, Master's Degree in Clinical Psychology, 2 bachelor degrees in psychology and anthropology, and a minor in Sociology. Christina has additional education and training in Transpersonal Psychology (Holotropic techniques, Psychonautics, Spiritual Emergencies, Shamanic Approaches, Plant Medicine, Archetypal Astrology), and has attended workshops, trainings, and classes with Dr. Stan Grof MD, PhD co-founder of the field of Transpersonal Psychology and his late wife, Christina Grof PhD. Christina is also a Certified Aromatherapist, Herbalist, Master Gardener, Reiki Master Teacher, Ordained Minister, Docent, and Bodyworker. She specializes in women's holistic wellness, spiritual psychology, personal growth, and spiritual development. For more info, please visit: https://mindsoulandself.com/about-dr-christina-wilke-burbach/
Class Location: Mind, Soul and Self LLC/Dr. Christina Wilke-Burbach's Office is located in beautiful downtown Sheboygan at 728 Pennsylvania Avenue, 2nd Floor, Sheboygan, WI 53081. Easily accessible from Highways 23 and 43. Located 50 minutes north of Milwaukee and 60 minutes south of Green Bay. If you are coming from out of town and want to stay overnight, the following hotels are all less than a mile from Dr. Christina's office: Blue Harbor (725 Blue Harbor Drive Sheboygan, WI 53081), Harbor Winds Hotel (905 S 8th St, Sheboygan, WI 53081) or The Grandstay Residential Suites (708 Niagara Ave Sheboygan, WI). There are numerous restaurants across the street on 8th Street including Field to Fork, Harvest Cafe, Il Rotrovo, and Paradigm.
Registration: Registration deadline is June 12, 2018 (will close earlier if space is filled). Please contact Dr. Christina at 608.393.7353 or mindsoulandself@yahoo.com with any questions. Register by paying at least the $50 deposit below with balance of $135  due by June 12.  If you rather pay by check, please contact Christina for mailing address. Please note, due to limited space, fee is non-refundable if you cancel your attendance 48 hours or less from the start of the event.