July 2019: California Dreamin'




By Christina Wilke-Burbach

PhD

, RMT, CA




Mind, Soul, and Self LLC




mindsoulandself.com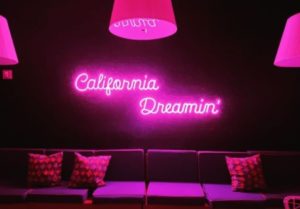 Intro to 2019 Photo Blog: 2019 is a journey into the world of non-verbal healing and personal growth here at Mind, Soul, and Self LLC. I have come to understand, true ways to heal spiritually, psychologically and emotionally are non-verbal: through art, music, movement, meditative states, and bodywork/energy work. The language of the soul/psyche is symbols, images, colors, vibrations, sensations, and patterns; we communicate this non-verbally. I have been on an incredible personal growth journey of my own the past few years into the world of art. I have become very involved with John Michael Kohler Arts Center (JMKAC) in Sheboygan, WI. I am the chair of the JMKAC Indoor Gardens, a member of the Friends of the Arts Council, and a museum docent (teacher/tour guide). I try to take a new art class every month. I started joining my artist husband in his art studio to paint and experiment with making art. Coincidentally, my old office space was located in an art gallery and my current office space is in an entire building of art studios. My preferred social media has become Instagram. I try to post a new photograph every day. I have enjoyed experimenting with art and photography as ways to express myself. So I have decided to have a photo blog this year to complement this personal and professional journey that I am on. I just recently had a revelation regarding my photography and am working on a project I hope to release later this year.
July Photo Blog: This month I went on my yearly adventure to California and spent a week in San Diego. I love California for so many reasons. The culture, energy, open-mindedness, the ocean, the weather, and the horticulture! The flora is so different than the Midwest (where I live). My heart belongs to tropical plants! Plumeria, jasmine, palm trees….oh my!! This year I was lucky enough to come across Lantana. I had seen pictures of this stunning plant on Facebook (in one of the plant groups I am a part of) but had never seen it in person until last week. Amazing plant! It is in the Verbena family. Lantana are aromatic, colorful, and pollinator-friendly. But what I find the most fascinating is its different stages…from budding to blooming. The closed buds form beautiful geometric patterns. The flowers are multi-colored. The blooming order of the flowers is interesting as it blooms from the outside inward. The flower clusters also change color as they mature. The flowers then mature into toxic berries, which start off as green and turn black as they mature. This plant definitely made me think about transformation, personal evolution, and change. 
As you view the photos, I'd like you to think about the many transformations you have gone through in your own life…from bud to bloom. What started your transformation(s)? How did it end? Is it still occurring? Has it changed you for the better? Is your life more beautiful as a result?  Light, Love, and California Dreamin'~ Christina
**All photos are the property of Christina Wilke-Burbach. All rights reserved ***