Available August 1 to 31, 2019
with Christina Wilke-Burbach PhD
**By appointment. Available over the phone, webcam, or in Sheboygan**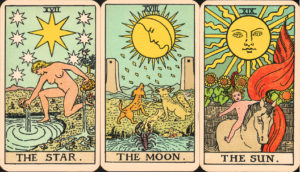 These 90-minute appointments with Christina Wilke-Burbach PhD, RMT, CA are our August 2019 special! Appointments blend together an Herbal Tarot Reading with an Herbal Medicine Consultation. Special price of $100 (normally $150).  Appointments are available face to face at Mind, Soul, and Self LLC in Sheboygan, WI (1310 Wisconsin Ave). Readings are also available via web-conferencing (Skype, Go to Meeting), email, or over the phone. In your Herbal Tarot reading, we will use the Herbal Tarot deck of cards (by Michael Tierra and Candis Cantin). We can explore relationships, friendships, your career path, spiritual growth, past/present/future, your life purpose, health concerns, or insight into a problem or concern you are facing. You will learn about an herbal ally that can assist you in your wellness journey. We will also discuss herbs, essential oils, botanicals, and preparations that can assist you in achieving emotional, physical, spiritual, and energetic wellness based on your unique situation and emotional and physical concerns you are experiencing. 
Tarot has been used for divination and insight since at least the 1500s. Tarot decks are usually comprised of 22 Major Arcana cards and 56 Minor Arcana cards. Tarot is rich in archetypes, metaphors, and symbolism. Each card in the deck represents a different stage in the journey through life. Tarot is not only a powerful spiritual tool, but it is also fabulous for gaining deep psychological understanding.
Tarot Readings with Dr. Christina are unique as she uses them as a Spiritual Psychology, personal growth, and counseling tool. She has a PhD in Health Psychology, a Masters Degree in Clinical Psychology, a Bachelors Degree in Psychology, a Bachelor's Degree in Anthropology, a Minor in Sociology, and is trained in Transpersonal Psychology having studied with Stan Grof MD, PhD, the founder of the field. She is also a Reiki Master Teacher and ordained non-denominational minister. Tarot readings with Dr. Christina can also include counseling, depth psychology, and information on archetypes, astrology, the hero/heroine's journey, rites of passage, and the chakras. Dr. Christina is also an herbalist, certified aromatherapist, Master Gardener, works the University of Wisconsin Extension Horticulture Hotline, is the project chair of the Indoor Gardens at John Michael Kohler Arts Center in Sheboygan, WI, is the Vice President of the Sheboygan County Master Gardeners, and is a member of the American Botanical Council. She will blend an herbal medicine consultation into your Herbal Tarot Reading.
Tarot Card Readings with the following deck is available:
The Herbal Tarot by Michael Tierra and Candis Cantin. This is a Rider-Waite style deck with an herbal correspondent for each Tarot Card. It blends herbalism with Tarot.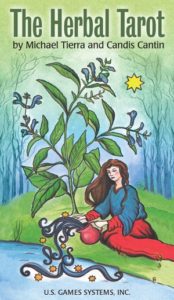 To Make an Appointment: First come, first served! Email Christina at mindsoulandself@yahoo.com or call 608.393.7353 to schedule. Appointments MUST be scheduled at least 24 to 48 hours in advance. Same day appointments are not available. Times available are between 10am and 7pm. When you are scheduling your appointment, please give Christina a few days and times that would work for you. Also please let her know if you would like a face to face, webcam, or phone appointment.  All appointments must be prepaid at least 24 hours before your scheduled time.
To purchase use cart below. Please note, all sales are final. The appointments are 90 minutes long and are $100.