Love is in the air this month with our February/Valentines Themed Sales!
** Purchase sales on the bottom of this page.
Sacral Chakra, Relationships & Love Languages Class with Dr. Christina Wilke-Burbach
The Sacral Chakra governs sexuality, sensuality, belongingness, family, and relationships. Not just intimate relationships and lovers, but ALL relationships from family and friends to coworkers and acquaintances. Learning the 5 love languages can drastically improve all your interpersonal relationships as well as help keep your sacral chakra in balance. Mini-Class Includes: a 40 minute downloadable class, a workbook and additional resources, and a recorded 30 minute hypnosis session on 'Self-Love and Attracting Your Soul Mate.' Regularly $20. Sale Price: $10.00
60 minute Relationship Intuitive Reading with Dr. Christina Wilke-Burbach available until 2/28/18
Let's explore your current relationship status, challenges, strengths, lessons, expectation, obstacles, purpose, passion, and what you can do to improve your relationship and be a better partner. Readings with Dr. Christina are unique as she uses them as a Spiritual Psychology, personal growth, and counseling tool. She has a PhD in Health Psychology, a Masters Degree in Clinical Psychology, a Bachelors Degree in Psychology, a Bachelor's Degree in Anthropology, a Minor in Sociology, and is trained in Transpersonal Psychology having studied with Stan Grof MD, PhD, the founder of the field. She is also a Reiki Master Teacher and ordained non-denominational minister. Intuitive readings with Dr. Christina can also include tarot cards, oracle cards, counseling, depth psychology, and information on archetypes, astrology, the hero/heroine's journey, rites of passage, and the chakras.  Readings are available face to face at Mind, Soul, and Self LLC in Sheboygan, WI. Readings are also available online via web-conferencing (Skype, Go to Meeting), email, or over the phone. To Make an Appointment email Christina at mindsoulandself@yahoo.com or call 608.393.7353 to schedule. Appointments MUST be scheduled at least 24 to 48 hours in advance. Same day appointments are not available. Times are flexible and can include morning, afternoon, and evening times. When you are scheduling your appointment, please tell Christina  if you would like a reading face to face, over the phone or webcam/Skype. Readings are also available via email (you do not need to be present. With your permission, Christina would type up your reading and email you the reading and a picture of your cards). All readings must be prepaid at least 24 hours before your scheduled time. Regularly $100. Sale Price: $80.00
Damiana Leaf & Maca Root Elixir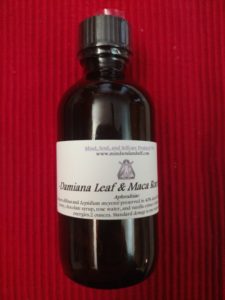 A yummy herbal product for date night! Elixirs are herbal tinctures/extracts that have honey, syrups, and/or sugar added to them to make them more palatable. This elixir is an Aphrodisiac. Supports Sacral Chakra and sexual health. Damiana Leaf (Turnera diffusa) and Maca Root (Lepidium meyenii) preserved in 40% alcohol, with local raw honey, chocolate syrup, rose water, and vanilla extract. Infused with healing energies. As of the last update, we found no reported interactions between this supplement and medicines. It is possible that unknown interactions exist. If you take medication, always discuss the potential risks and benefits of adding a new supplement with your doctor or pharmacist. 2 ounces. Try one to three teaspoons as needed. Regularly $25. On sale for $18.00 (plus tax & shipping).
Saturday Night & Sunday Morning Natural Perfumes by Mind, Soul, and Self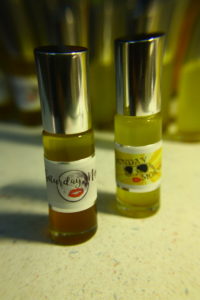 Saturday Night is boozy, sensual, deep, sexy, tenacious, smoky and reminiscent of a night out on the town. Cognac, davana, tobacco, cocoa, coffee, jasmine, and frankincense bring other friends along for the ride. This perfume is dreamy! Whether out for drinks or at the club, Saturday Night beckons you to stay out under the moonlight until the sun comes up. Oil based perfume. Gender Neutral, both males and females can wear this perfume/cologne. Comes in a roll-on, but the top can be taken off if you prefer a dab on. You can also layer Saturday Night and Sunday Mornin' and wear them both at the same time! Psychology: Alluring, desirable, flirty, dark, shadow.  Longevity: 4 to 6 hours. Size: 5ML. Strength: Perfume strength (30%). Normally $25 each, on sale for $18.00.
Sunday Mornin' is sleeping in late, feeling the sun on your face, then meeting up with the girlfriends for brunch and shopping. Mimosa inspired aroma with boozy, vanilla, and citrus accords. The weekend doesn't stop just because its Sunday Mornin'!! Oil based perfume. Comes in a roll-on, but the top can be taken off if you prefer a dab on. You can also layer Saturday Night and Sunday Mornin' and wear them both at the same time! Psychology: Playful, fun, carefree, happy, social, light, illuminated. Longevity: 2 to 4 hours. Size: 5ML. Strength: Perfume strength (30%). Normally $25 each, on sale for $18.00.
To Purchase: Sales can be purchased at the PayPal Cart below. Dr. Christina will confirm your class registration  within 48 hours of receiving your payment and will send you the login info to access and download the online classes.  All sales are final. Financing is also available through PayPal Credit. To learn more about PayPal Credit, click on the banner below the PayPal cart. If interested, please choose that option when using the Paypal cart.
Shipping available anyway in the United States. Shipping price for all orders is a flat rate of $6.50. All orders are shipped via Priority Mail with tracking info. Please note, Dr. Christina will be out of the office February 8th to 17th and any products purchased during that time frame will be shipped out on February 19th.  All sales are final. No refunds or exchanges.